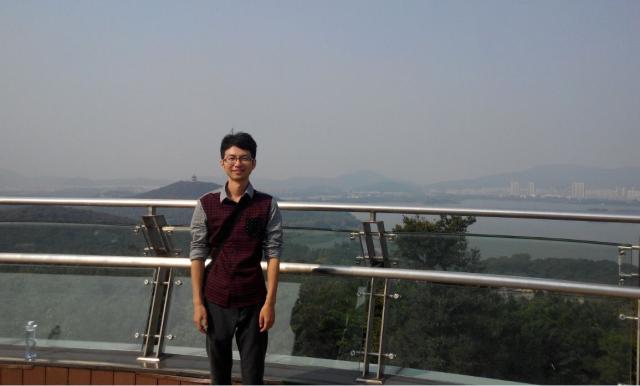 陈作舟,男,1979年1月出生,杭州人,高级工程师,生物系生物技术教研室。
教育背景
2009/07-2011/08,美国贝勒医学院,分子和人类遗传学系,博士后研究员
2003/03-2007/04,中国科学院遗传与发育生物学研究所,联合培养硕博连读
2002/09-2007/04,浙江大学,生命科学学院,硕博连读
1997/09-2002/06, 浙江大学,生物医学工程系,本科
主要研究方向
生物信息学,转录组,表观组
主持和参与的科教项目
2013青年教师资助计划,应用KEGG进行跨物种转录组比较,ZZHY13001,主持
发表的主要论文情况
[1]Kraushaar DC, Chen Z, Tang Q, Cui K, Zhang J, Zhao K. The gene repressor complex NuRD interacts with the histone variant H3.3 at promoters of active genes. Genome Res. 2018 Nov;28(11):1646-1655. (共同第一作者,SCI IF 10)
[2]Bingshe Han; Wenhao Li; Zuozhou Chen; Qiongqiong Xu; Juntao Luo; Yingdi Shi; Xiaoxia Li; Xiaonan Yan; Junfang Zhang. Variation of DNA methylome of zebrafish cells under cold pressure.(co-first, in submission)

[3]Xu Q, Cai C, Hu X, Liu Y, Guo Y, Hu P, Chen Z, Peng S, Zhang D, Jiang S, Wu Z, Chan J, Chen L. Evolutionary suppression of erythropoiesis via the modulation of TGF-β signalling in an Antarctic icefish. Mol Ecol. 2015 Sep;24(18):4664-78.
[4]Coarfa C, Yu F, Miller CA, Chen Z, Harris RA, Milosavljevic A. Pash 3.0: A versatile software package for read mapping and integrative analysis of genomic and epigenomic variation using massively parallel DNA sequencing. BMC Bioinformatics. 2010, 23;11:572.
[5]Chen Z, Ye H, Zhou L, Cheng CH, Chen L. A gene family-based method for interspecies comparisons of sequencing-based transcriptomes and its use in environmental adaptation analysis. J Genet Genomics. 2010,37(3):205-18.
[6]Dai Z, Chen Z, Ye H, Zhou L, Cao L, Wang Y, Peng S, Chen L. Characterization of microRNAs in cephalochordates reveals a correlation between microRNA repertoire homology and morphological similarity in chordate evolution. Evo & Dev, 2009,11(1):41-9.
[7]Chen Z, Cheng CH, Zhang J, Cao L, Chen L, Zhou L, Jin Y, Ye H, Deng C, Dai Z, Xu Q, Hu P, Sun S, Shen Y, Chen L. Transcriptomic and genomic evolution under constant cold in Antarctic notothenioid fish. Proc. Natl. Acad. Sci. USA. 2008,105(35):12944-9.
[8]Xu Q, Cheng CH, Hu P, Ye H, Chen Z, Cao L, Chen L, Shen Y, Chen L. Adaptive evolution of hepcidin genes in antarctic notothenioid fishes.Mol Biol Evol. 2008, 25(6):1099-112.
[9]Wang M, Chen Z, Cloutier S. A hybrid Bayesian network learning method for constructing gene networks. Comput Biol Chem. 2007,31(5-6):361-72.
[10]Chen L, Cao L, Zhou L, Jing Y, Chen Z, Deng C, Shen Y, Chen L. Trehalose as a good candidate for enriching full-length cDNAs in cDNA library construction. J Biotechnol. 2007 Jan 10;127(3):402-7.
[11]Chen Z, Wang W, Ling XB, Liu JJ, Chen L. GO-Diff: mining functional differentiation between EST-based transcriptomes. BMC Bioinformatics. 2006, 16;7:72.
[12]Wang M, Lu H, Chen Z, Wu P. Mining gene expression databases for local causal relationships using a simple constraint-based algorithm. IJPRAI 2006, 20(2): 311-327.
[13]Chen Z, Xue C, Zhu S, Zhou F, Ling XB, Liu GP, Chen L. GoPipe: Streamlined Gene Ontology Annotation for Batch Anonymous Sequences with Statistics, Prog. Biochem. Biophys 2005 32(2)
联系方式
地址:水产与生命学院A楼117,
电话:021-61900473,
E-mail:zzchen@shou.edu.cn
(2020年4月更新)